An independent apartment in Monticchiello
and the Val d'Orcia all around
Casa Bonari is an apartment 140 meters wide with independent entrance, accessed by external stairs and is located on one floor. It consists of 3 bedrooms (1 triple, 1 double, 1 single), 2 bathrooms with shower, equipped kitchen, living room with fireplace and the Music Room. The house is completely surrounded by green areas. VISIT THE EXTERIORS The apartment has been newly furnished with furniture that belonged to our family or found in antique shops and renovated by our father Albo, who has a lot of fun in his "carpentry".
All rooms are fully equipped with complete linen and furnished in Tuscan style, with the addition of modern elements. Wardrobes, mirrors, dressers, are all handmade. Each element tells a small story, a curiosity, of the Val d'Orcia life. WE RECOMMEND WHAT TO SEE!
Triple room "Alba" with double bed plus single bed, overlooking the olive grove and the cypress road known for its beautiful silhouette. It is dedicated to the novelist Flaubert and his masterpiece "Madame Bovary".
Double room "Tramonto" with double bed, overlooking the garden and Pienza, on the west side of the house where the sun sets. It is dedicated to the writer F.S. Fitzgerald and his novel "Tender is the night".
Single room "Mezzodì" with single bed, overlooking the pine forest, where you can walk and relax while admiring the view and listening to the numerous birds that nest in the trees of the garden.
Both bathrooms are equipped with shower, bidet, toilet, hairdryer, soap, towel set.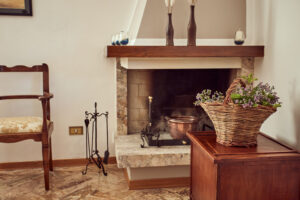 The large living room is prepared for moments of relaxation, to be dedicated to reading, listening to good music, chatting while sipping a coffee. Overlooks the garden and patio. It has a fireplace and is furnished with furniture that belonged to our family. It is equipped with a smart TV with access to Netflix and Amazon, fireplace, sofa, stereo box, board games (chess, checkers, cards).
Novels and poetry books are fully available on the wall bookcase. DISCOVER OUR VIRTUAL LIBRARY
The kitchen overlooks the garden, is fully equipped and can accommodate 6 people; it is the old "grandma Elsa's kitchen" with its memories of wonderful lunches. It is equipped with a refrigerator with freezer, hob, oven, electric kettle, toaster, mixer, espresso coffee machine, various dishes, cleaning products (dish soap, degreaser, sponges), towels, aprons.
Our desire is that Casa Bonari is a place of retreat, but also of sharing, where guests can enjoy the quiet offered by the wonderful countryside or chat on one of the benches that adorn the garden or sit on the porch to enjoy the suggestive sunsets that fall on the valley every evening. Maybe by reading one of the many books that we gladly make available to you. VISIT THE #ARTLIFE SECTION
Direct booking with us entitles you to a personalized offer and better conditions. Our structure is for sale in the best search portals, but only by contacting us directly by email or phone, will we …
I don't want / to dive / into a ball / of roads./ I have a lot / tiredness / on my shoulders./ Leave me like this / as a / thing / placed / …