An enchanting setting frames the residence of our family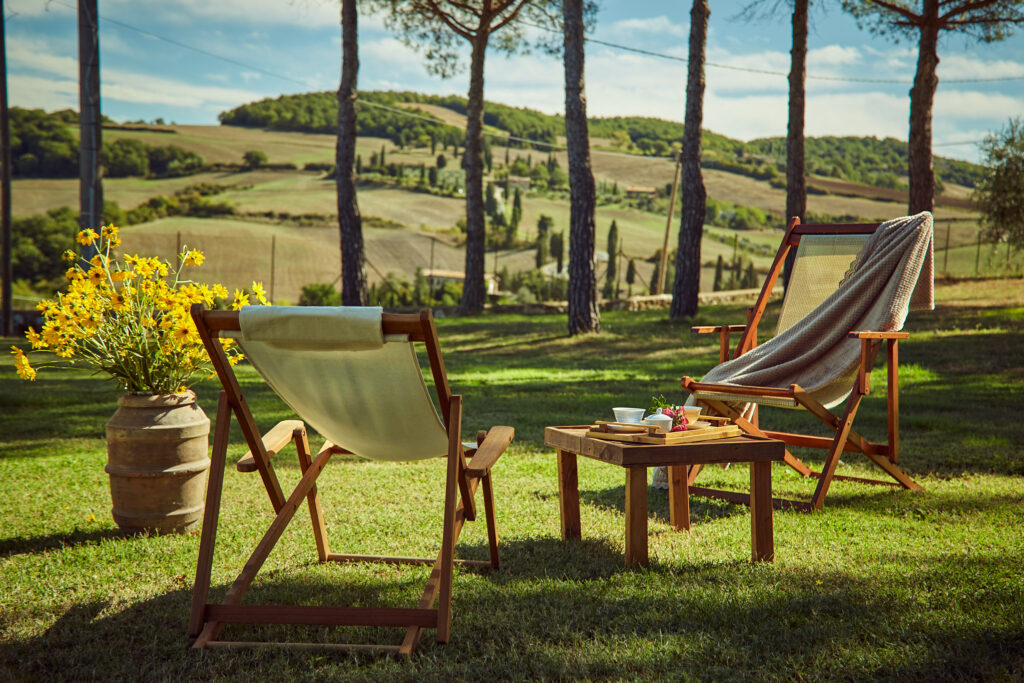 We are in Monticchiello at the foot of the delightful medieval village, in a privileged corner of the Val d'Orcia, UNESCO World Heritage Site. We are in the heart of a geographical area caressed by beauty, where man has been able to create over time a unique partnership between human being, nature and art. Casa Bonari opens its windows on the iconic curves crowned with cypresses, on wheat fields and soft clay dunes, which make this landscape among the most fascinating in the world. VISIT THE INTERIORS
The house is surrounded by about one and a half hectares of land, largely consisting of the garden, the pine forest and crops.
The green and soft garden like velvet and the always airy and fresh pine forest are perfect places to relax and have fun, with two swings for the little ones. We have thought of everything, with an organized area for children: there are tricycles, balls, games of various kinds and a lovely wooden house, inside which younger guests can freely have fun, like a miniature Casa Bonari!
Our "diffused" solarium with sunbeds, deck chairs and grassy areas is the ideal place where the desire for peace and relaxation finds its outlet. Or under the porch overlooking Pienza and Monticchiello, furnished with a comfortable round stone table and iron chairs, which can be used for dining, aperitifs or to read one of our many books available. DISCOVER OUR VIRTUAL LIBRARY
Finally, our vegetable garden and olive grove, which directly overlook the iconic curves framed by cypresses, are concrete proof that long-lasting fruits have been handed down from the solid family traditions. read our history
The view from Casa Bonari is 360 degrees: there is no point in the house from which you cannot enjoy a breathtaking view. Writers, painters, architects have continually drawn inspiration from this territory which has changed shape over the centuries while maintaining, unperturbed, the promise of preserving the essence of the landscape intact. For this reason, walking in our garden it is possible to admire the magnificent silhouette of Pienza, the town par excellence of the Renaissance, as if not a day had passed since its birth, or to constantly move your gaze between the fields and hills admiring one of the medieval scenes of the Good Government by Ambrogio Lorenzetti. Everything is unchanged, even if it has changed. This is due to the work that man has been able to carry out in the area, preserving its physiognomy, enhancing the seasonality of the crops, integrating the architecture in full harmony.
In this sense, Monticchiello and the entire Val d'Orcia represent a unicum in the history of man and Italian art and for this reason continues to be a privileged travel destination. WE RECOMMEND WHAT TO SEE